Friday, April 9, 2021 (Virtual)
Join Explora for our "Fired Up!" Adult Night, an evening of fiery activities to spark your interest!
This virtual event comes complete with your own physical Adult Night in a Box upon registration. Each box is designed for two people to explore the science of fire, heat, and much more.
Code Hot

Heat things up with secret messages
Memory Wire

Code a wire with heat to remember your name, a shape, or a heartbeat
LED Fire Box

Add a cozy feeling to your next date night in with a safe indoor "fire"!
Register now for the virtual Adult Night link and materials box
Explora members* $22.50
Non-members $25
1. Online: You can select as many boxes as you'd like, each box is for two people to attend together. Email thajny@explora.us to set up multiple shipping locations.
2. Call the Adult Night Coordinator at 505‐600-6594 or e‐mail Thajny@explora.us
---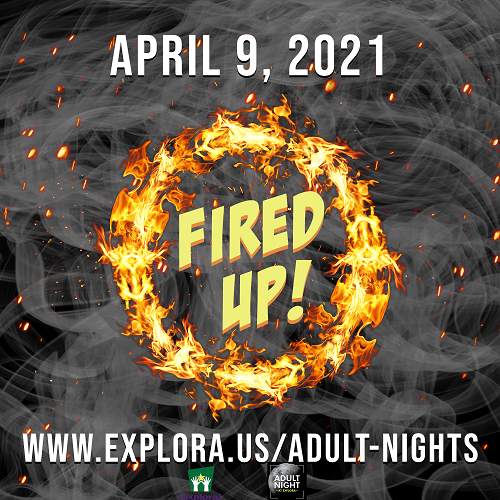 Adult Night in a Box: What's in it?
Hands-on STEAM Activities

Heat revealed ink

Heat coded Memory Wire

LED fire box
Science Card Game designed by Explora
Tea from Figment Tea Shoppe & Gallery
Live Music from The Cumberlands
Upon registration, you will be able to pickup your Adult Night in a Box curbside at Explora or confirm your shipping address.

Once your box has been picked up or shipped, cancellations result in forfeiting total paid.

Cancellations made before your box has been picked up or shipped will be subjected to a $1 processing fee.
Spring 2021 Class Schedule
Wed., Jan. 20/ Thurs., Jan. 21/ Fri., Jan. 22/ Sat., Jan. 23
Be an inquisitive scientist as you concoct new substances. Investigate their characteristics as you first observe them and then manipulate them with your hands.
Wed., Feb. 3/ Thurs., Feb. 4/ Fri., Feb. 5/ Sat., Feb. 6
Get charged up about electricity. Make your hair stand on end with static electricity and go fishing with a balloon. Make a static box to take home.
Make Sense of Your Senses
Wed., Feb. 17/ Thurs., Feb. 18/ Fri., Feb. 19/ Sat., Feb. 20
Explore each of your five senses as you feel different textures, match pairs of scents, trick your eyes with illusions, identify mysterious sounds and more.
Wed., March 3/ Thurs., March 4/ Fri., March 5/ Sat., March 6
Observe and compare rolling systems using recycled materials, cups, and marbles. Test which shapes roll the best and create a roller coaster for marbles.
Wed., March 17/ Thurs., March 18/ Fri., March 19/ Sat., March 20
Separate light into the color spectrum and experience the colors that make up the rainbows. Use a variety of items to find rainbows and enjoy a colorful snack.
Wed., March 31/ Thurs., April 1/ Fri., April 2/ Sat., April 3
Roll up your sleeves and experiment with fruits, vegetables, and other solids to classify them as floaters or sinkers. We'll modify materials to make them float or sink, and design a foil boat to carry a cargo of pennies. How many pennies will your boat hold before it sinks?
Wed., April 14/ Thurs., April 15/ Fri., April 16/ Sat., April 17
Can you balance on one foot? Test out your sense of balance as you explore counter balance and center of gravity. Make a balanced art project to take home.
Wed., April 28/ Thurs., April 29/ Fri., April 30/ Sat., May 1
We'll dissect different fruits and vegetables to find out what's inside. Which one do you find the most interesting? We'll make colorful fruit and vegetable prints to take home and more!
Activities vary from semester to semester. For more information about this program please contact our Reservations office.
Phone: 505-600-6734
Email: reservations@explora.us
Para información en español, llame al 505-224-8323