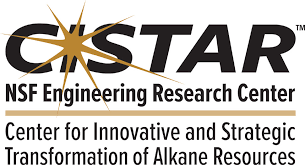 Science in the Community: Engineering Tomorrow's Energy | From Shale to Gasoline
Chemical engineering graduate students at UT Austin, Purdue, and Northwestern will discuss their experiences in STEAM and present live science demonstrations with lots of time for questions at the end. Discover applications of their research to CISTAR, a National Science Foundation engineering research center.
Speakers: Matt Davenport (UT), JC Davila (UT), Elizabeth Bickel (Purdue), and Elsa Koninckx (Northwestern)

Graduate fellows with the Center for Innovative and Strategic Transformation of Alkane Resources (CISTAR) funded by the National Science Foundation study industrial processes and chemical pathways to convert light hydrocarbons from shale resources into useful products with decentralized and highly networked processing plants. Their research backgrounds span across the broad spectrum of research in chemical engineering, with experience in both computer simulations and laboratory experiments.
Science in the Community is a NM Science Fiesta event. Full event line up can be found on the Science Fiesta page.
Register* for free HERE.
Event for all ages
*This event will take place through Google Meet; pre-registration required for your online safety. Only one registration form needed per classroom or family per event.